ZWIGATO is the story of a delivery executive. Manas (Kapil Sharma) resides in Bhubaneshwar, Odisha with his wife Pratima (Shahana Goswami), son Kartik (Prajwal Sahoo), daughter Purbi (Yuvika Brahma) and his ailing mother (Shantilata Padhy). He used to work as a manager in a factory. The factory shut and after being jobless for 8 months, he takes up the work of a delivery rider for a food ordering and delivery platform called Zwigato. Every day, Manas leaves his house with the promise that he'll complete 10 deliveries before coming home at night. However, he's unable to do so every day. He realizes that the algorithm of the Zwigato app is such that he gets fewer orders after completing 7 deliveries in a day. Pratima, meanwhile, insists on working but Manas stops her from doing so. What happens next forms the rest of the film.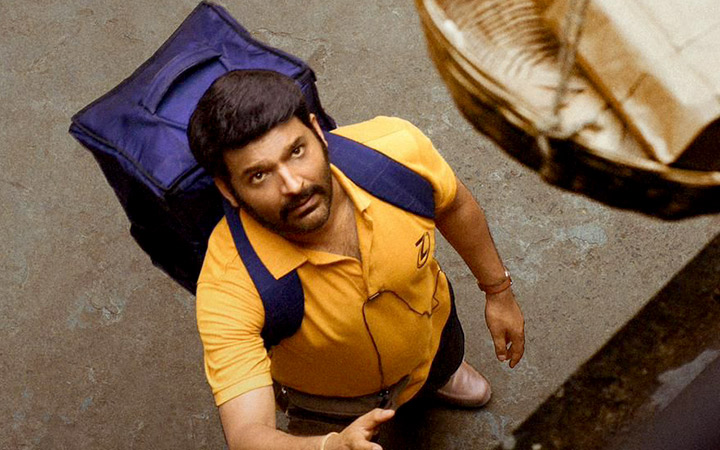 Nandita Das and Samir Patil's story is promising. We are heavily dependent today on delivery riders for our daily needs and this is probably the first film on them. But Nandita Das and Samir Patil's screenplay is ineffective. ZWIGATO, ideally, should have been a heartbreaking tale of the service class industry but the writing fails to stir the emotions. Nandita Das and Samir Patil's dialogues are realistic and conversational.
Nandita Das's direction is poor. There's not much of a story and that's not the core issue here as there have been many niche films that throw light on the lives of characters, sans plot, and yet leave the desired impact. That doesn't happen in ZWIGATO. She does handle a few scenes with panache like Pratima giving a massage to the rich lady, the training process at the mall, Manas discussing the app and its algorithm with the fellow riders etc. The sequence where Manas' ID gets blocked is an arresting scene as well.
On the flipside, Nandita Das fails to explain certain developments. Viewers will fail to understand properly the whole angle of Manas delivering the pamphlets at the rally. The track of Manas and Pratima's kids is forgettable. And one also wonders what was the relevance of adding the plot point of Manas's elder brother arriving in Bhubaneshwar. It had no connection whatsoever to the story. The last scene is supposed to be heart-warming but fails in its endeavour.
Zwigato: Official Trailer | Kapil Sharma, Shahana Goswami | Nandita Das
Speaking of performances, Kapil Sharma puts up a genuine act. In a few of the scenes, his expressions are a bit off but overall, it's a fine performance. Shahana Goswami, as expected, is too good. Yuvika Brahma and Prajwal Sahoo are okay. Shantilata Padhy does well. Ashwin Ray Mohapatra (petrol pump attendant) and Jaya Biswas (Suni; Pratima's friend) are passable. Gul Panag is decent in a special appearance. Sayani Gupta and Swanand Kirkire leave a mark though they were there in just one scene each.
Hitesh Sonik's music is unnecessary. There's only one song, 'Yeh Raat', and it's forgettable. Sagar Desai's background score is minimal. Ranjan Palit's cinematography is raw and yet, neat. Rita Ghosh's production design is realistic. Pampa Biswas' costumes are straight out of life. Jabeen Merchant's editing is unhurried.
On the whole, ZWIGATO fails to 'deliver' because of its weak script and direction. At the box office, it'll sink without a trace.